DELTA CLASS
Pictures and Bios...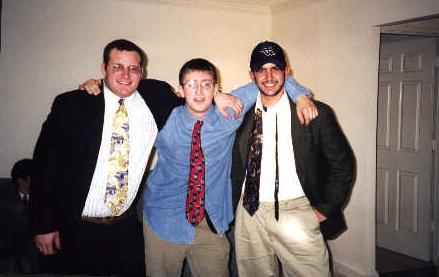 Here are Sam and Adam on top of our 1997 Homecoming Float!!!
Adam Hirschfeld
Hometown: Cleveland, OH
Major: Broadcast Journilism
Graduating: Fall 1998
Positions Held: Vice-President (Junior Year)
Secretary (Freshman-Sophomore Year)
Favorites: Author: Whoever Wrote the Fab Five Book
TV Show: Simpsons, Monday Night RAW
Entertainer: "Stone-Cold" Steve Austin, George Carlin
Team: Cleveland Indians






Sam and Scott at one of our many successful HOOTERS Rush Events, chowin down' as usual!!!! Its not Roys, but It'll do.....


Sameer Bhandarkar (SAM)
Hometown: Shrewsbury, MA
Major: Peace and Conflict Resolution (SIS)
Graduating: Spring 1998
Positions Held: President (Junior Year)
Vice-President (Sophomore Year)
Rush Chair (Senior Year)
Favorites: Author: Mario Puzo
TV Show: Simpsons
Entertainer: Eddie Murphy
Team: Dallas Cowboys
You'd probably think that this is my girlfriend....but you'd be wrong....this is Kim Sanders, one of our great friends who helps our fraternity do all kinds of stuff (don't be sick...), and one of my best friends in life. Love ya, Kim...
Kim Sanders (member of Sigma Delta Tau)
Hometown: Northridge, CA (Near LA)
Major: Religion/History/Communications
Graduating: Eventually
Positions Held: Lavaliered by Brother(s) in Fall of 1997
Favorites: TV Show: X-Files
Entertainer: The guy that dies in that movie that I hate with the big boat
Team: AEPi Intramurals

This is Tyler and Scott at Spring 1998's Closed Rush
Scott Landis
Hometown: Langhorne, PA (outside of Philly)
Major: International Finance and Marketing
Graduating: Spring 1999
Positions Held: President (Junior Year)
Treasurer (Freshman-Sophomore Year)
Social Chair (Senior Year)
Favorites: Author: Dante Allegri (The Inferno)
TV Show: Married with Children, Star Trek Voyager
Entertainer: Adam Sandler, Michael Biehn
Team: Philadelphia Flyers